There are queens among us, and one of them is Precious L. Williams.
A 13-time National Elevator Pitch Champion, Precious founded her coaching business after discovering her natural skill at pitching. Now, with her unique charisma and expertise, she coaches entrepreneurs, speakers, and executives to communicate boldly and "slay the competition."
Precious talked with us about her journey as an entrepreneur, and how staying authentically you can help you land clients—even during the pandemic.
Sarah: Can you tell us about your entrepreneurial story, and what drew you to your field of work?
Precious: I was a disgruntled attorney back in 2011. I so badly wanted to start my first company, but I only had -$400 in my bank account. I knew I needed money, investments, and connections. So, without hesitation, I decided to go the media route—even though I had no pitch training or connections.
First, I pitched at a small business awards event in 2011. I went up and introduced myself to the producers of a major cable news channel at the event—no shame!—and with no preparation whatsoever, I won over the producers of one of their shows.
My second pitch was actually on that show, and an investor gave me $500k to start my first company! From there, I won 13 out of 14 National Elevator Pitch championships and raised another $150k. Because of my pitching ability and star quality, I've appeared on major business television shows and business publications—even movies!
In 2013, so many people were begging me to teach them what I did so naturally, it inspired me to start my second company, Perfect Pitches by Precious. I took on ten beta clients, and they all won their competitions! Today, I am hired by corporate executives, successful women entrepreneurs, and speakers to show them how to create and deliver the killer pitch that turns prospects into clients and slays all competition.
S: Along your journey, what's one of the most surprising things you've learned about yourself as an entrepreneur?
P: One of the most surprising things I have learned about myself, as an entrepreneur, is that fortune truly favors the bold. I was unafraid to create my own lane as a speaker, corporate trainer, and communications skills/pitch coach. Others wanted me to go the traditional motivational speaker route, yet I decided to boldly focus on a niche that others neglected. Truly, it has made all the difference! Trust yourself and the process.
S: What's a risk you've taken in your career that either paid off or didn't pay off but was a pivotal learning experience?
P: Being confident in who I am and my abilities has always paid off. Being afraid and stuck in analysis paralysis and fear has never paid off for me. Caution does not pay off. Risk-taking with planning has paid off for me. Taking unusual routes and chances have served me well.
When I allow fear, worry, and doubt to creep in, I am done! Trusting my vision, myself and the process is what truly works. I am talented and experienced. I lean on that and move forward always!
My clients love that I am real and help build their confidence, in addition to creating the most killer pitches for them and helping them rehearse for their presentations.
S: How has your work with clients been affected by the COVID-19 pandemic? And what's helped you to stay resilient and motivated?
P: At first, I believed what everyone said: that my business—as well as the coaching, training, and teaching industries—were over.
In fact, the opposite occurred: My business increased 100%.
Why? I stayed visible and positive, and in some ways, lowered my rates to get others to try me and see real results. I also raised my rates in other services. In the meantime, I created digital products and received offers from companies to be affiliates and sell my products on their sites.
I am staying resilient by remembering: It's always darkest before dawn! I will live to see another day with purpose, and show others what is truly possible when you dare to dream and take action.
S: You've been using Acuity Scheduling for a couple years now. What's one of the most useful ways that Acuity has helped to grow your business?
P: Before Acuity Scheduling, I never knew how simple it could be to schedule online appointments and be prepared for them. When I send my link to my prospects, that gets me closer to closing the sale. Plus, it makes me look and feel professional.
Acuity has been a difference-maker in my business: It got me clients that I never thought I could get—and gets me paid.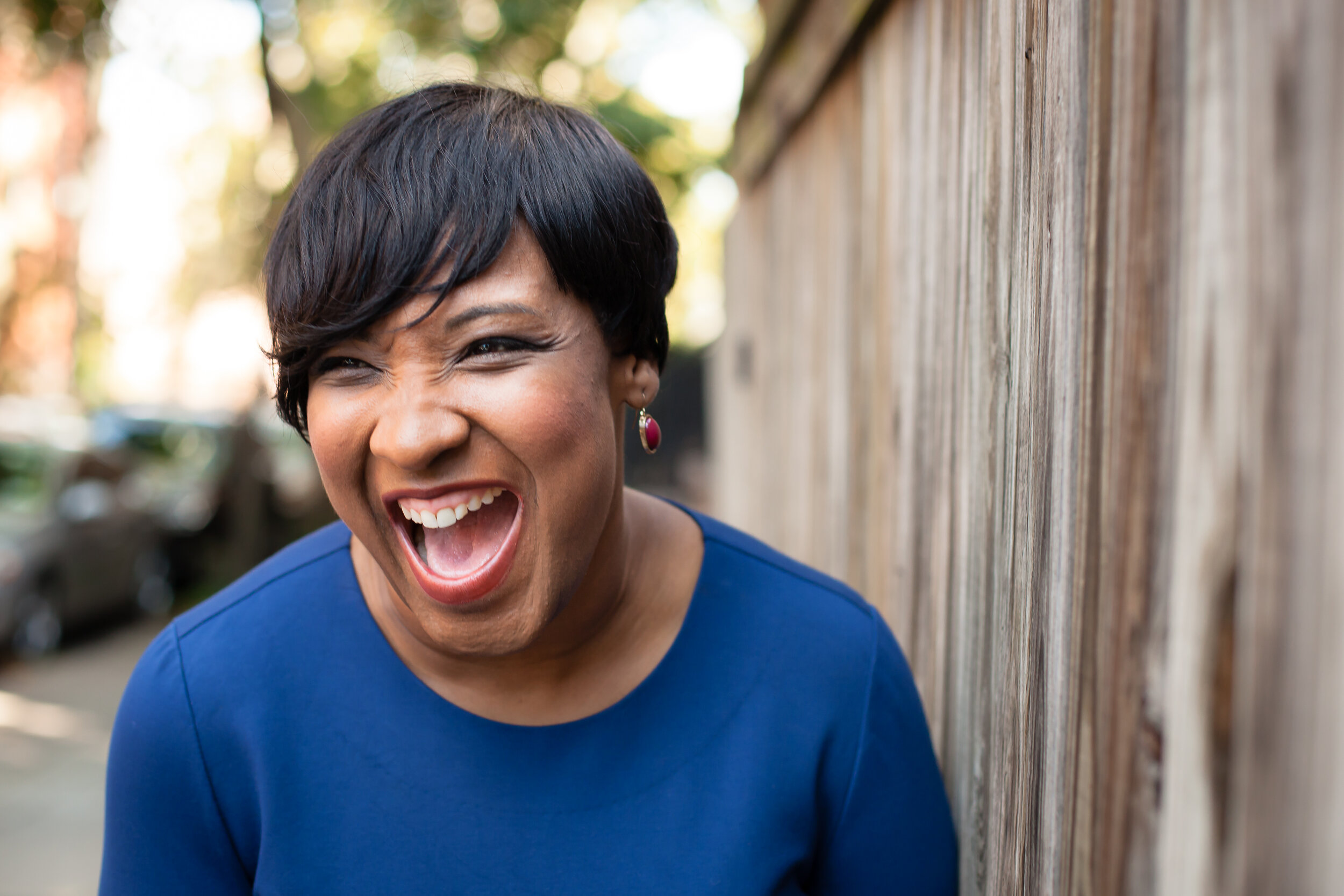 S: I notice that you've been a National Elevator Pitch Champion an impressive 13 times! If you could share with entrepreneurs just one of the keys to a perfect pitch, what would it be?
P: Embrace your perceived flaws. This means age, race, class, sex, or any 'isms.
Why? Because when others perceive you as less than, use that to your advantage and shine bright. I cannot tell you how many times people have been astonished at how great of a killer pitch master I am. I show no fear and pull no punches.
Embrace your differences, and create tension along the way. When they dismiss you, they'll never see your greatness coming until it's too late!
S: Do you have any advice you'd like to share with other Black women entrepreneurs?
P: Stay visible and vigilant every day. Offer real, concrete content. Show positivity and vulnerability. I have days when I am scared of something big and allow my clients, customers, fans, and followers to become a part of my ascent just as much as I become a part of theirs.
Stay authentically you! Be transparent. Share your world and why you love what you do. It makes a difference.
Finally, know that who you are is so much more important than what you do!
Subscribe
Subscribe to receive the latest blog posts and updates, promotions and partnerships from Íú˛ĆĚĺÓý Scheduling.

By providing your email, you indicate you have read and understood our .

acuity customers, independent business owners, coaching, covid-19